Lighthouse Dental Practice
19 Clarendon Road,
Southsea, PO5 2ED
reception@lighthousedental.uk
Opening Times
Monday to Friday – 8.30am–1.00pm – 2.00pm-5.00pm
Lighthouse Dental Practice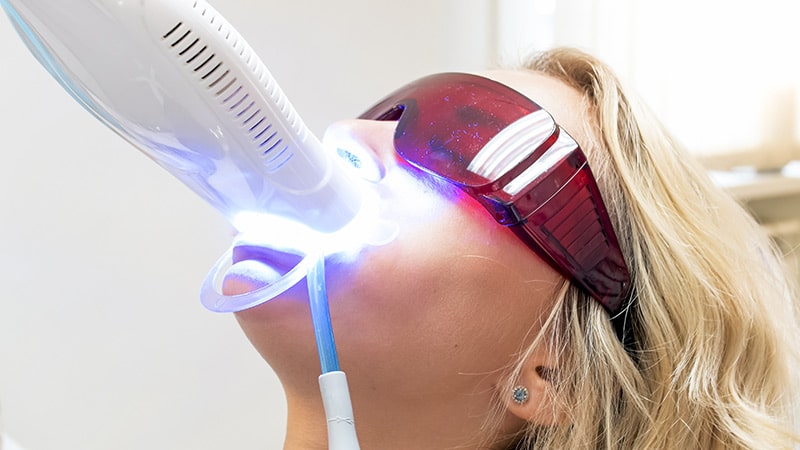 Achieving a Brighter Smile: The Art and Science of Teeth Whitening
A dazzling smile is often considered a symbol of health and confidence. Teeth whitening, a popular cosmetic dental procedure, has become an accessible and effective way to enhance the brightness of your teeth. In this article, we will explore the process of teeth whitening, its benefits, and the various methods available for achieving a brighter smile.
The Science Behind Teeth Whitening: Teeth can become discolored or stained due to various factors, including aging, consumption of dark-colored beverages (such as coffee, tea, and red wine), smoking, and certain medications. The discoloration occurs when the enamel, the outer layer of your teeth, accumulates stains or becomes thinner, revealing the underlying dentin, which is naturally yellowish.
Teeth whitening, also known as teeth bleaching, is a cosmetic procedure that uses safe and effective chemicals to break down and remove stains from the enamel, restoring a whiter and brighter appearance to your teeth.
Benefits of Teeth Whitening:
Enhanced Confidence: A whiter smile can boost your self-esteem and improve your overall confidence, making you feel more comfortable in social and professional settings.
Youthful Appearance: White teeth are often associated with youthfulness and vitality, helping you appear more youthful and attractive.
Quick Results: Teeth whitening delivers noticeable results quickly, often within a single session, providing an instant transformation.
Non-Invasive: Unlike some other cosmetic dental procedures, teeth whitening is non-invasive and generally painless, requiring no surgery or anesthesia.
Methods of Teeth Whitening:
In-Chair Teeth Whitening:
Professional teeth whitening treatments administered by a dentist or Hygienist.
Highly concentrated whitening agents for fast and effective results.
Customized treatment plans to suit individual needs.
Completed in a single visit.
At-Home Teeth Whitening:
Dentist-prescribed home whitening kits.
Custom-fitted trays for even and controlled application.
Whitening gel applied daily for a specified duration, typically 1-2 weeks.
Over-the-Counter (OTC) Products:
Various OTC teeth whitening products, such as strips, gels, and toothpaste.
Typically less potent than professional options.
Results may vary, and it may take longer to achieve desired outcomes.
Precautions and Considerations:
Consultation: Before starting any teeth whitening procedure, it's essential to consult with a dentist to assess your oral health and determine the most suitable method for you.
Sensitivity: Some individuals may experience temporary tooth sensitivity during or after teeth whitening. This is usually manageable and often subsides within a few days.
Maintenance: To maintain a bright smile, it's important to avoid or limit staining substances and practice good oral hygiene.
Teeth whitening has become a popular and accessible cosmetic dental procedure, offering individuals the opportunity to achieve a brighter, more confident smile. Whether done in a dental office or at home under professional guidance, teeth whitening can transform your appearance and boost your self-esteem. Always consult with a dentist to ensure a safe and effective whitening experience tailored to your unique needs.